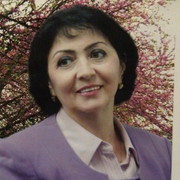 DUSHANBE, March 18, 2016, Asia-Plus – "The City Where Dreams Come True" by Tajik author Gulsifat Shahidi will be presented in London on March 20.
"The City Where Dreams Come True" is a collection of four stories viewed from the perspective of three generations.  Gulsifat Shahidi presents a rare and poignant insight into the impact which Tajikistan's civil war had on its people and its culture during the early 1990s.
Informed partly by her own experiences as a journalist, these beautifully interwoven stories are imbued with both her affection for her native land and her hopes for its future.  The narrators – Horosho, his granddaughter Nekbakht, her husband Ali and his cousin Shernazar – each endure harrowing episodes of loss, injustice and violence but against all odds, remain driven by a will to survive, and restore peace, prosperity and new opportunities for themselves and fellow citizens.
Last year, Gulsifat Shahidi was awarded the "Dove of Peace" medal for the best work on the topic of strengthening of peace, friendship and mutual understanding between people.  The medal, which is the highest award of the Association of Generals "Generals of the World are for Peace," was handed over to Gulsifat Shahidi on the sidelines of the Fourth International literary festival and forum "Open Eurasia and Central Asia Book Forum & Literature Festival – 2015."
Organized by the publishing house "Hertfordshire Press" together with the Yunus Emre Institute London Turkish Cultural Center and "ORZU Arts" theater, the festival was held in London from November 6 to November 9, 2015.
There were 22 events in the framework of the "Open Eurasia and Central Asia Book Forum & Literature Festival" in 2015.  The festival was attended by writers, poets, artists, diplomats and politicians from 20 countries: Kazakhstan, Kyrgyzstan, Tajikistan, Uzbekistan, Turkey, Norway, Brazil, Pakistan, Iran, England, Iraq, Netherlands, USA, Russia, Latvia, Serbia, Croatia, Bulgaria, Scotland, and Wales.
-from News TJ