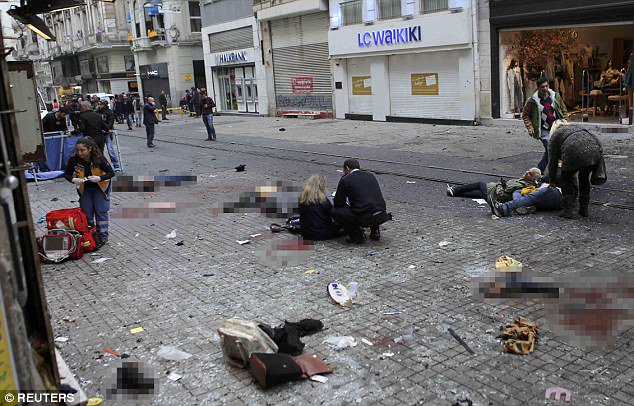 Five people have died and at least 36 are wounded after an alleged suicide bomber targeted a tourist shopping area in Istanbul this morning.
Shocking CCTV footage shows shoppers cowering in shops and running away in panic as the explosion ripped through the street, which is lined with international stores and shopping centres.
Photographs taken of the aftermath showed the street, which is also close to a local government office, covered in blood as tourists and residents battled to help the wounded.
At least three of the people injured are in a serious condition, the city's governor, Vasip Sahin, said. Twelve are foreigners but their nationalities have not yet been confirmed.
http://www.dailymail.co.uk/news/article-3500017/Two-dead-seven-wounded-suicide-bomber-targets-tourist-shopping-area-Istanbul.html#v-7828677051167127506
-more at Daily  Mail
Read more: http://www.dailymail.co.uk/news/article-3500017/Two-dead-seven-wounded-suicide-bomber-targets-tourist-shopping-area-Istanbul.html#ixzz43MRJEzpC
Follow us: @MailOnline on Twitter | DailyMail on Facebook