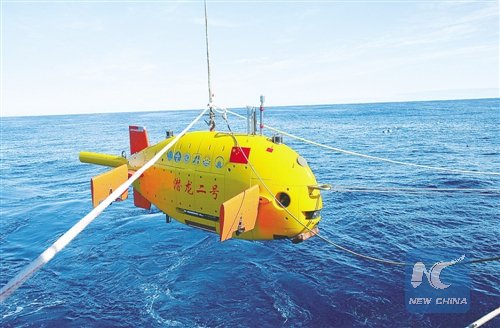 China's unmanned submersible Qianlong No.2 completed its first exploration in the southwest Indian Ocean early this month, scientists said at a press conference on Wednesday.
The autonomous underwater vehicle (AUV) with a length of 3.5 meters, height of 1.3 meters, and width of 0.7 meters, was independently designed by Chinese scientists and can dive to a depth of 4,500 meters.
It dived 16 times during the exploration from Dec. 16, 2015 to March 4, 2016 in the southwest Indian Ocean. Its work covered 218 square kilometers with the maximum depth of over 3.2 km, said Liu Jian, chief designer of Qianlong No.2. Liu is also a researcher with the Shenyang Institute of Automation under the Chinese Academy of Sciences.
The AUV explored sea areas rich in sulfide deposits that contain various metals, detected deep-sea terrain as well as photographed sulfide, basalt and marine organisms, according to Liu.
-More at Xinhua